Blog
Explainer: Accessible Absentee Voting in NYS
Joe Zesski of the Northeast ADA Center explains the role technology can play in accommodating voters with disabilities.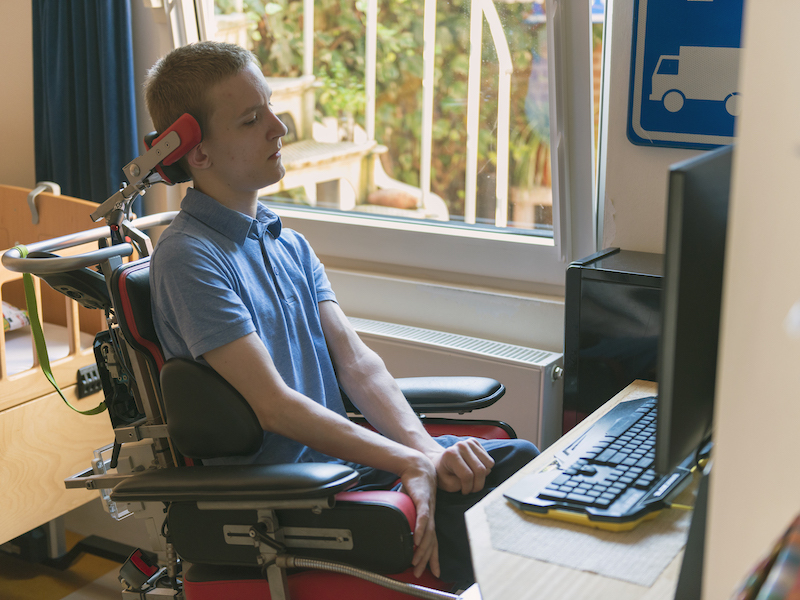 It's the law in New York state that voters must be permitted to vote privately and independently, and public polling places are required to have equipment that makes that possible for people with disabilities. But, what about absentee ballots? A settlement with the New York State Board of Elections earlier this year changed the rules to make absentee ballots more accessible and compliant with the Americans with Disabilities Act (ADA). These rules go into effect for the upcoming primary election on June 28.
To better understand this settlement, I interviewed Joe Zesski, program manager at the Northeast ADA Center, which is housed in Cornell's School of Industrial and Labor Relations, in the Yang-Tan Institute on Employment and Disability. In this role, Joe has trained boards of elections on voting accessibility and answered constituent questions about electronic accessibility, an area of professional, as well as personal, interest for him. As a professional who happens to be blind, Joe's real-life experience informs his commitment to understanding what accessible technology can and cannot do.
When asked about this settlement, he explained that the new rules for absentee ballots "move the needle toward privacy and independence." He said that in the past, the focus has been on creating an accessible in-person voting experience, with assistive technologies like text-to-speech. This is important, Joe noted, because if you can't fill out your ballot independently, then you must rely on someone else to assist you. This can create concerns around trust, privacy and ethics.
The settlement focuses on print disabilities that interfere with "effective reading, writing or use of printed materials." Joe gave examples of what this sort of disability could be like: "Pen and paper ballots create issues not just for voters who are low-vision or blind. People with conditions that affect fine motor skills, like Parkinson's, or people who are paralyzed, those folks can't vote on a standard paper absentee ballot without assistance. Or, someone who has severe dyslexia may need their ballot read aloud. This settlement requires New York state to create options for absentee ballots that allow for a wide array of people to use them."
"With COVID," he said, "suddenly, you have many people with various disabilities who wish to vote by absentee ballot. And, we now have technology that makes it possible to use home computers and smartphones to fill out an absentee ballot."
New Jersey, Puerto Rico and the U.S. Virgin Islands
Zesski confirmed that other areas covered by the Northeast ADA Center — New Jersey, Puerto Rico, and the U.S. Virgin Islands — do not yet offer accessible remote ballots. Zesski said New Jersey might soon follow on the heels of New York state to offer accessible absentee voting. He noted that New Jersey has put a lot of effort into making its online elections materials comply with appropriate web standards for accessibility. He also said that Puerto Rico and the U.S. Virgin Islands might add similar options in a few years.
How does the ADA relate to this?
Zesski pointed out that Title II of the Americans with Disabilities Act (ADA) calls for effective communication with people with disabilities. For example, if a state or local government needs to communicate with someone who is deaf, they can do this in various ways, but one way is to provide a sign language interpreter. To comply with the ADA, this interpreter must be "qualified." Qualified has a technical definition under the ADA, and part of that definition is that this person is not a family member of the person with a disability except in very specific circumstances. Of course, a family member might be fluent in sign language, but to maintain privacy and authenticity, a family member should be used only in an emergency with no alternatives. In short, putting a person with a disability in a position where they may have to rely on a family member to vote is not living up to the "qualified" standard.
Under Title II, a state government need not offer an accommodation if it would create an undue burden on the state. Back in 1990 when the ADA was passed, assistive technologies that are now commonplace would have been barely imaginable. Even so, the ADA articulates principles around accommodation and equal access, and Joe agreed that, due to changes in technology, accessible absentee voting now is much more feasible. It seems that this settlement came about because individuals with disabilities prodded New York state into action.
Voting in the June election and beyond
The settlement requires that New York state implement a Remote Accessible Vote-by-Mail (RAVBM) system. With this RAVBM system, a voter with a disability can mark their ballot using assistive technology on a computer or smartphone. However, they will not submit the ballot electronically; instead, they will download their marked ballot, print it and submit it to their county board of elections. A special "oath" envelope will be provided with tactile markers indicating the signature area. I asked Joe whether this will create difficulty for less technically savvy voters or for voters who do not have a printer. He agreed that this may create difficulties, and he noted that the settlement requires that the New York State Board of Elections designate and publish the contact information of one or more staff who can help voters find appropriate equipment. For example, a voter might be directed to a local library. The settlement also requires that county boards of elections publish on their web sites information about county-based printing resources.
The settlement includes several deadlines. For instance, New York state must, by May 1, make available a "statewide portal request system" where a voter can request an accessible absentee ballot for their location. In addition, the state has a deadline of June 1 to "develop, test, and implement" the RAVBM system. And, the state must post information about who to contact with questions by May 15. I expect that there will be a lot of questions!
The ADA is meant to protect our civil rights by preventing disability-related discrimination as we engage in community and civic life. If you need more information about voting rights, check out the Northeast ADA Center's accessible ballots infographic and About Voting Access Rights article. Also, feel free to use the contact information for the Northeast ADA Center below to ask a question; I've met the folks who answer the phone lines and email, and I can tell you firsthand that they are friendly.
---
Tonya Engst works as the digital content editor at Cornell University's Yang-Tan Institute on Employment and Disability, in the School of Industrial and Labor Relations. If she's not at her computer keyboard with a cup of coffee, she's running trails or organizing group runs. She is also known for co-founding the TidBITS electronic newsletter.